One of the main reasons for custom packaging is for the product to stand out on the shelf in comparison to the competitor.  This helps the brand identity and increases the perceived value of the product.
Another great reason for custom packaging is to make your products distinctive, so the customer can easily tell the difference between products.  Help remedies offers six different products of medicines/bandages that they can package in very similar, yet distinctive cases.  Instead of using complicated names of medicine that customers may not understand, Help Remedies keeps it simple by naming each product by how you feel.  Their product line includes: "Help.  I have a headache.", "Help. I have an aching body.","Help. I can't sleep."  Each product also has their own assigned color that is used in the packaging, so that customers can get used to grabbing a certain color off of the shelf.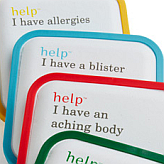 Viktoriya Gadomska designed these custom boxes of vitamins A, B, C, D, E, and F.  With the boxes in the shape of the letter of their respective vitamin supplement, it makes it easy for customers to grab what they want off of the shelf in a hurry.